A silt fence is a temporary barrier of woven geotextile fabric that is used to capture mainly coarse sediments carried in sheet flow. Silt fences temporarily impound sediment-laden runoff, slowing down the flow rate and allowing sediment to settle out of the water.
The purpose of super silt fences is similar to that of silt fences. However, super silt fences are more robust devices that are appropriate to control runoff from steeper or larger catchments than silt fences.
Councils have strict guidelines on how silt fencing should be installed and maintained. Evergreen Landcare installs all silt fencing and super silt fencing according to the GD05 guidelines to remain well within the given rules. 
Where Silt Fences are used
The purpose of silt fencing is to detain runoff flows so that deposition of transported sediment can occur through settlement. They are not used to filter sediment out of runoff. 
We install silt fences: 
Where there is a need to control sediment by intercepting sheet flow
Where a site is low gradient, or is confined with a small contributing catchment, such as short batter fills and around watercourses
To delineate the limit of disturbance on an earthworks site, such as riparian areas or bush reserves
Where installation of an earth or topsoil bund would destroy sensitive areas, such as bush and wetlands.
To provide a barrier that can collect and hold debris and soil, preventing the material from entering critical areas, watercourses or streets.
Evergreen Landcare has the required expertise: 
Silt fence and super silt fence
Supply and install to GD05 standard
100 plus metres achieved per day
Fast response fast turn around
Machine or manual option available
Call us to discuss your requirements.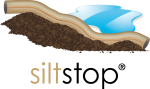 Our Siltstop® Erosion Control Socks are used to control the flow of water on construction sites across New Zealand
Ideal for protecting culverts, drains and stormwater runoff. Evergreen Landcare can supply and install as required on site. Siltstop® socks are available in custom size at any length, so can be used on any project or for any application. We also can make Siltstop® socks on a site as required to fit your project. Get in touch today if you would like more information.
Flocculation is a treatment process used on water to remove dispersed or fine suspended particles by "floccuation" or clumping together of the particles by chemical process. The larger particles will form a sediment and clean water can be skimmed off the sediment pond.
Flocculation aids the removal of suspended solids and can be used in various situations, including construction sites, quarries and sub-divisions.
Flocculation is installed as a device or a "shed" that dispenses a calculated amount of flocculant, depending on the site requirements. 
We work with experienced engineers and suppliers to ensure the water on your site is kept clean using flocculants. 
We supply and install dosing stations to your site requirements.
Aids Filtration of water
Prevents pollution of waterways
Reduces the amount of sediment leaving a site
Ensures compliance
Can be installed as an automated rain-activated device
Decanting Earth Bunds (DEBs) and Silt Ponds
Bunding is a constructed retaining wall around storage where potentially polluting substances are handled, processed or stored, for the purposes of containing any unintended escape of material from that area until such time as a remedial action can be taken.
Where required, Evergreen Landcare can to install DEBs (decanting earth bunds) and silt ponds to ensure your site is compliant before major earthworks commences.
Bunding may be a legal requirement on some sites.
To treat sediment-laden runoff
The runoff needs flocculent treatment to improve water quality
Where silt fences are not appropriate
To ensure site compliance
Erosion Control Matting is used in areas where ground material is soft and prone to wind erosion and slumping.
Evergreen Landcare works with a range of suppliers to supply and install cost effective erosion protection mattings when and where required on your site.
Geotextiles range from silt fence fabric through to coconut fibre blankets and reinforced plastic mesh that are designed for a variety of locations.
Each Geotextile product has its specific application, advantages and limitations.
Evergreen Landcare is experienced with each of these products and their installation and can provide impartial advice on the most cost effective solution.
Sediment and Erosion Control
Sediment and Erosion Control
Sediment and Erosion Control
I visited Burrell's Road and Raupiu cut site yesterday. I'd just like to say you're team have left both sites in a really good state from an Environmental perspective, you should both be proud of this. I've taken photo's so that I can show future project teams what excellent looks like. Cheers
Everything is looking fantastic and the village and senior Ryman management are very happy with the outcome. I'd like to personally thank you and your teams for the professional and prompt way you conducted yourselves during this project. Now this area is completed we can house dementia residents from the recently closed Caughey Preston Rest home.